Sunday, I attended my sweet little nephew's LDS baby blessing. Of course, the chapel was filled with many extra guests, consisting of visiting family of the newborn, attending that day's sacrament meeting. It was enjoyable to see cousins excitedly squirming to sit next to each other and hardly able to contain themselves.
It so happened that his three other cousins were born right around the same time frame and another blessing had been given earlier that day in a different ward meeting to a little girl who was now present in this sacrament meeting. She was adorned in a crotched white dress with a darling little cap that fit snuggly on her pink head. Her mother toted her around with much adoration and a desire to show her off.
This precious little boy is my sister's fourth. Needless to say, she knows the ropes and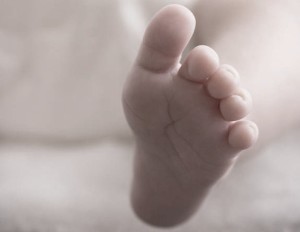 always seems to be in control. As I have watched her around her kids, or even in general, it seems natural to her and she is so graceful. Even on this day, while cousins squirmed and she had her hands full, she was calm and happy.
The meeting started and the congregation joined together in the beautiful melody of the hymn. The opening prayer was followed by another hymn and, finally, the time came for the blessing of the little infant who was snuggled into the arms of my sister. My husband and several other priesthood holders stood at the front in a circle around the little boy as my brother-in-law gave the blessing. An LDS baby blessing is a simple yet wonderful prayer wherein the name of the child is given, followed by blessings for the child.
This was a big day for my nephew, wearing an all-white infant blessing suit that his mother and I picked out. To decide what he would wear was special for me to be a part of and neat to see him wearing it for his blessing.  It was also a big day for the family; a special day. We celebrated with a quite but enjoyable lunch that Sabbath afternoon.
Julie Allen BBB
See here for our collection of boy LDS baby blessing outfits.