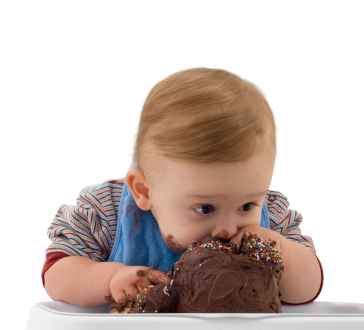 It has long been a family tradition, that I even recall from my wee years, to bake a special cake for a baby turning one. There is one cake for the Birthday babe and one cake for everyone else. Why? To allow- nay, encourage- the child to dig in. Attack it. It makes for a fun show and a great photo shoot.
It so happens my first baby is turning the BIG one in a few short months. And, of course, I will be carrying on that tradition. I came across a baby photographer's blog the other day, who had taken stunning pictures of a similar event. A little brown eyed girl turning one and eating, face first, into the brightly frosted cake.
I must say, she was quite delicate and cute about the whole matter. And, I was a bit envious of the pictures. I realized, while scrolling down from shot after shot, that this was a much better way to capture this moment- this tradition!- than the efforts of my family in the past- Great memories but poorly recorded on a home camera in dim lighting with old 80's patterns and furniture, and usually only a disposable diaper clothed the infant.
Well, I do recall a grand performance of one sibling covering himself from head to toe in chocolate frosting with cake meshed into his hair. I guess those pictures were real though. Don't we say we want it to be "real"?
However, I've determined to make it cute at least. Worthy of grand display … on my personal blog anyway (that probably only I see). These professional photos where clear and crisp but the setting was also fantastic. There was great lighting and a cute setup.
Okay, back to where I started. After recognizing that this tradition, of letting a baby turning one eat their whole cake with face and hands, is fairly common with many families, what I was really wondering is where did this come from? How is a silly things such as this so common among families?