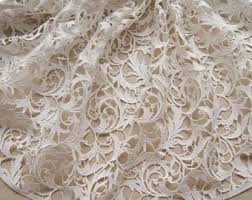 I love lace! A few of our most elegant dresses have a good bit of lace, which is typically made of cotton, linen, or synthetic fabrics. It is beautiful to wear but perhaps calls for a little caution when it comes to cleaning. And rightfully so! I have provided some pointers and tips for those who have chosen this fabric and are now wondering what to do with it.
It is best to hand wash lace. Use cold or room temperature distilled water and mild soap. If there are any buttons or zippers on the garment, zip or fasten them to prevent snagging. Let it soak for about a half hour to loosen dirt and remove other particles. Be gentle with the material by moderately squeezing and avoid scrubbing or wringing. Rinse thoroughly. You may spend a good time simply rinsing. A suggestion here, if there is a lot of lace, is to pull the fabric out on fiberglass screen with the edges taped. The goal is to prevent the weight of the heavy water from straining the delicate lace. Air or dry flat, and re-shaping may be needed.
If ironing is needed, be sure to use a thick-padded ironing board or lay down a thick white towel first. Then use a press cloth between the iron and the lace, which will prevent crushing the detail of the lace and snagging. For steam-pressing, you could set the iron on low and use a damp cloth. Do not use starch.
Yellowing is a common encounter with either heirlooms or lighter fabric in general. If you are desperately in need, something that may work to get the yellowing out of a white garment with lace is soaking in a non-chlorine bleach (BIZ can be found in the detergent isle of almost any grocery store and is recommended for fine washables) and rinse thoroughly. I would recommend reading the cleaning label first. If there is a stain, try sprinkling baking soda on the area, rub softly, let sit for five minutes, and then rinse. Try repeating a few times if the stain stays.
These are also good guidelines to follow with any fine washables and may be used for other gowns or suits of different fabrics. It may seem like a little extra work, but worth taking the care once you have selected a beautiful outfit and created lovely memories.
Julie Graham BBB